This is an excerpt from a book I am writing called (working title) "Voice Journaling".
Voice journaling is the idea of using your voice to create daily journals. There is a romantic notion that journaling must be done by hand, preferably using a pen or pencil similar to one used by Henry David Thoreau. You do this in your quiet place in the presence of a scented candle.
It's neato concept, but people who are constantly on the go don't have time to do that. If you're a Mom running kids around, your quiet time might consist of the two minutes before you collapse after you've put them to bed.
Our goal with voice journaling is for you to get the most out of your time. We are going to focus on mobility so you'll be able to journal while you're walking your dog, watching your kids' soccer game, driving to work, or wherever you are at the time inspiration strikes.
I am not going into the virtues of journaling here. That's in another part of the book.
Let's Begin
We are going to use your phone as a transcription device. You're going to record your voice talking into your phone, save that recording, then upload it to a web-based application called Otter.ai.
We start with this combination because it is as close to free as possible while maintaining a decent level of quality with regards to recording translation of voice to text.
There are quite a number of services that are offering voice-to-text services. I have used many of them, and I have settled on Otter.ai.
"Why Otter?"
Otter.ai offers a free plan that allows 600 minutes of transcription for free per month. That's 10 hours of transcription per month, an ample amount to get accustomed to using the service without having to pay. The biggest drawback to the free version; it only allows you three free imports. In other words, it only allows you to upload audio files three times before you must purchase a pay plan. We don't have to worry about that right now as the way we're going to use Otter to record directly into the app.
The other drawback to the free plan is it allows only minimal customization to the vocabulary. You can add up to five custom words. The most common area in which Otter.ai struggles with proper translation is in recognizing names (people, places) or industry-specific technical terms. This can be alleviated (to an extent) by customizing vocabulary. If this you find this annoying, you may want to upgrade to the pro version. The Pro version is $12.99 per month on a monthly basis, or $99.99 a year.
You can use Otter.ai through an app on your phone or on a web browser on your computer. I recommend you start with the phone app. That serves our purpose of mobility.
Sign up for an account at Otter.ai in a web browser or on your phone. Note that you can use your email, or integrate your account with Facebook, Google, or use your Apple ID. I prefer to use my email as I hate the idea of linking my accounts together.
If you are doing this on your phone, you will see a screen similar to this: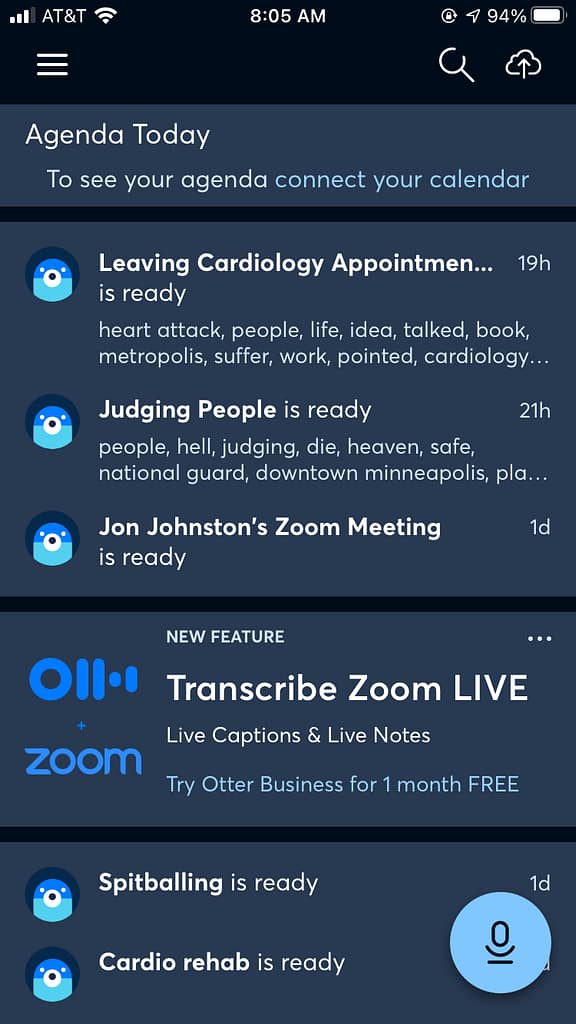 Note that I already have several recordings on Otter and they are listed on the main screen.
To begin, simply press the microphone icon. A screen similar to that below will appear. You can begin talking, and Otter will start translating your voice to text on the fly.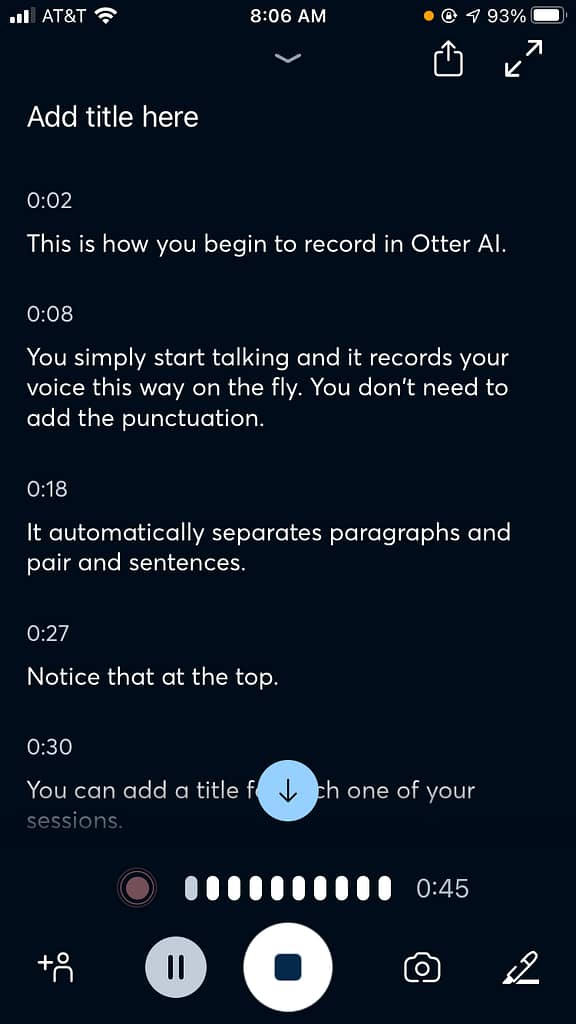 Note there is a place to add the title of your session. The title will show up on the main screen similar to the opening screen above, for example, "Leaving Cardiology Appointment", which is a session I recorded after my yearly cardiology appointment so I could remember as much as possible about what my doctor and I discussed.
You do not need to add punctuation. Otter will create sentence and paragraph breaks for you automatically.
The lack of punctuatio is a blessing and a curse. It's a blessing in that there is very little to learn – you can start transcribing your thoughts immediately with almost no training. It is a curse because some speech items don't translate well without punctuation. There is no way to put a phrase in quotes. A sports score of 34-10 will translate as "34 to ten". Even if you try to use hyphen or dash, Otter will translate your speech as "34 dash ten". (This may be corrected as more updates are done to the service.)
You do NOT need a constant internet connection to use Otter. It will record your voice on your phone, then upload it later to the service for translation when your phone becomes connected again.
You can use Otter while sending a text, retrieving your email, or using a navigational app such as Apple Maps while driving. I have not yet tried to use it during a phone call. That's next! Otter will record while in the background on your phone.
When you are finished with your session, press the stop button in the lower middle of the Otter screen.
You will receive an email notification once Otter.ai has finished processing your file. You can click on the link in the email or login to your account at Otter.ai to see the processed text.
The processed text will look comparable to the screenshot below:
You can now edit your transcribed text. You can play your audio, and the cursor will move with the audio as it's spoken, allowing you to hear what you said so that you can properly edit the text.
Once you are finished editing, you can export the text. The free plan allows you to export to a simple TXT file. The paid plans allow you to export to more advanced formats – PDF, Word Doc, and SRT. SRT is a file format used for subtitling videos.
This is the easiest and least obtrusive way I've found to get started with voice journaling.
Now… during this beginning process you were probably holding your phone the entire time. It would be more convenient if you were using a microphone. Next up, we will discuss several microphone options and why each of them is an option dependent upon your goals.